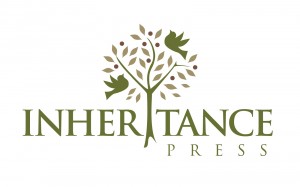 Well, it's all official, I've gone and created my own publishing company.
Technically, I created and named Inheritance Press when I self-published my blog book earlier this year. But in recent months I've been branching out. I've formalized Inheritance Press as a business entity, sought public input on my logo design, created a website, and signed my first author—none other than fellow blogger Paul Nichols of Writing From the Hip. We've been working on formatting his book, Growing Up in the 1950s…Just Seven Blocks from the Mexican Border: A Southern Arizona Memoir, scheduled for release on September 5. Stay tuned for an official announcement of availability!
For those curious about the meaning behind the Inheritance Press name, it's twofold. First, it represents that the first book published under this brand was my own legacy to my children. I hope it's an inheritance they will treasure forever. Second, it represents my personal faith and the promise that we will inherit eternal life.
The logo is dear to me because it captures both of these meanings. It is a family tree, with the two doves representing my two children. It is also the tree of life, with the doves adding just the right note of Christian symbolism.
As a print-on-demand publisher (albeit a very small, very independent, and very part-time one), I hope to be producing books on topics of personal interest to me. For now, that includes the disparate genres of personal memoirs, workplace learning, and Christian living/spiritual growth. If you know any aspiring authors writing in these genres who are looking for more personal assistance than self-publishing alone provides, feel free to put them in touch with me or direct them to the Inheritance Press website. I'd love to talk with them.
And to stay up to date on new releases, become a fan of Inheritance Press on Facebook!