Maia has been begging for an MP3 player lately. But there is no way I'm plunking down hard-earned money on small electronic gadgets for her to lose, when she has a hard time even keeping track of her hairbrush.
But, I love my daughter, and I hate to see her be disappointed. So this weekend I allowed her to buy an MP3 player with HER OWN MONEY, pooled from birthday gifts last month, provided she could find one within her budget.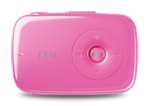 She found a 1 GB model for $40, and still had $2 to spare after tax. I don't think I've ever seen a happier kid leaving Target. She gushed that her dream came true, and she would always remember this day. All over a bubble gum pink piece of technology with no display to tell her what song she's listening to, and which also happens to be smaller than a pack of actual bubble gum.
Not to mention the fact that part of the birthday money was in the form of an American Express gift card. Which required a signature. And the Target associate let Maia do the signing on the credit card machine since it was her gift card. She felt super grown up making such an important purchase and using the funny electronic pen to sign her name. You would have thought she had just won the lottery.
And I was so excited to see her so excited that it didn't even feel like work when I stayed up half of Saturday night, copying all her CDs (about 15—spoiled kid!) to the MP3 player while she was in bed. And then renaming the files, at her request, so they would play in the same order as on the CDs, instead of in alphabetical order.
I don't think Maia's feet have touched the ground or the earbuds have left her ears in the last couple of days. Except that technically, one of the earbuds has left her ear quite a lot, since she is generously sharing the listening experience with her little brother. While out and about on errands yesterday, Noah did not stray any further from Maia than permitted by the length of his lone borrowed ear bud.
And Noah's only musical request? Church songs. I've got angels. I truly, truly do.