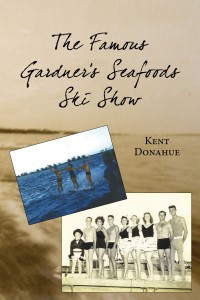 BIG NEWS!!! BIG NEWS!!! My beloved husband Kent Donahue's first book, The Famous Gardner's Seafoods Ski Show, is now available through online retailers or by ordering through your local bookstore! You'll love this slice of local Port Orange, Florida history, and Kent is well qualified to tell the story. He is an active member of the Port Orange Historical Trust, presents a monthly Port Orange history lecture series, and conducts biweekly radio interviews on local history. Kindle and other e-book editions (for Nook, iBooks, etc.) coming soon.
The book can be ordered via the link below, among other places. $14.95, ISBN 978-0982385920
The Famous Gardner's Seafoods Ski Show
PS: A little plug for the publisher (who happens to be me!) of this fine book. Head on over and "like" Inheritance Press on Facebook if you want to stay informed about other works in the pipeline.